IMPORTANT: Ensure that the Computer, Mobile Phone, Smart Phone used for conducting Internet Banking Transactions are regularly updated with antivirus/firewall and the same are up-to-date
The very first thing
Install a good Spyware Blocker/ Antivirus.
There are two ways to purchase a Security Application: (a) Buy a comprehensive Security Suite that include all such as: an antivirus, anti spyware, and a firewall. And, (b) buy separate application for each of them.
Decision is based on the capacity of your computer, if it can handle the load of a comprehensive Security Suite, then go for it. Otherwise purchase different products.
But be sure you have one ....
Install a Good Firewall
A firewall is a barrier against anything that could compromise the security of your computer and keeps out things such as spyware, viruses, malware, hackers, etc.
Internet is a public network, which means that any computer that is connected to the Internet can connect to another one. A firewall scans all incoming and outgoing traffic and upon examination stops or approves that traffic. Combined with anti-spyware programs firewall boosts the security of your computer.
Update, update, and update !
Because new spyware and viruses are written everyday and it is essential that you keep up-to-date your computer. Windows updates, security updates, patches, definitions, your firewall, your anti-virus program, your anti-spyware program - make sure all are current. You can configure your programs to update automatically or you can do them yourself.
Be Safe
Follow these tips while you surf Internet:
Don't Click On It
Online Banking frauds rely on a sophisticated scheme but starts with a mundane activity: a customer checking his/her e-mail. The customer unwittingly clicks on a link or attachment that contains malware, such as a keylogging virus.
If you don't know what it is, no matter what it is, never click on it. Never, never, never. If there's something you come across that looks like something you would be interested in, such as- 'Want to lose 25 pounds in 25 hours? Click here for this free easy tip!' As a thumb rule don't click it and make it your habit.
Below is a pop-up that it very tempting to click on; in fact, you almost automatically do it because it looks legitimate and you need to know if you're infected, right? Well, it's not legitimate; in reality it is an advertisement that probably contains adware or spyware or a Trojan of some type. How can you tell? Look in the lower left-hand corner, all the way at the bottom. circled it in red.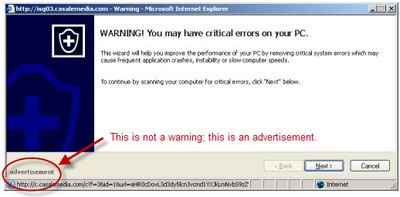 Now How to Close a Pop-up, if one pop-ups on your screen:
Now you have come to know that the pop-up that you have come across is not legitimate. How to close it?
Take a look at the below pop-up:
Note that there are two X's to close the pop up with. Now companies are putting an X in the upper-right hand corner inside the pop up so that they can confuse you. The X that you should always click on to close the pop-up is circled red; it is on the outside of the pop-up itself. If you close the pop up by clicking the inner X (circled in green) then you have just activated the adware/spyware. In other words, never click inside the box!
Now if you are still confused which X to choose to close the pop-up, just press down Alt key on your keyboard and then press F4 key. Note that Alt key should remain down when you click F4. This is for windows operating system. And, for Mac use CMD and W.
One More Sample of Pop-up
Be careful of pop-ups that include free download/ install of a program, such as this: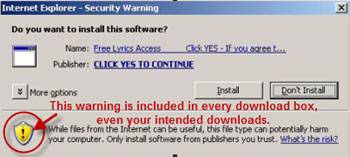 All downloads have this warning (circled in red) that you would normally adhere to on the bottom. Just accept this as normal - for a good and bad download and check out the rest of the download box. Since this is an unwanted download, close the box with the X in the upper right-hand corner and don't click on the "Don't Instal" button, as shown below: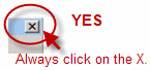 Prevent Phishing
How many times have you gotten an e-mail from someone you don't know, has your name on it and looks enticing enough to open it? Just clicking on a link within that particular e-mail can get you in trouble. If the sender is not who they portray themselves to be, then someone is Phishing. With you as the fish, and the e-mail as the bait. For example, you get an e-mail from your Bank asking you to provide your User ID and Password because Bank is doing some sort of enhancements in their computer system and alike. The content of the e-mail will have a sense of urgency that if you don't provide the details your online Banking account will be de-activated. Keep this in mind:
"Legitimate businesses don't ever ask you for personal information in an e-mail. It's as simple as that."
The best practice is to never click on a link in an e-mail. If you really want to know what's up, then go and type the exact address of the link in the address bar of your browser and see what's up. If there is nothing there, you know somebody has been Phishing.
Be Vigilant & Read All
Read everything! If you go to install a program, don't believe if it's been recommended as a safe program by anyone, read the "fine print" that comes before you start installing. There is a EULA (End User License Agreement) at the beginning of any programs installation. Read it! Most are fine, but others have what is called bundled software. See this installation image: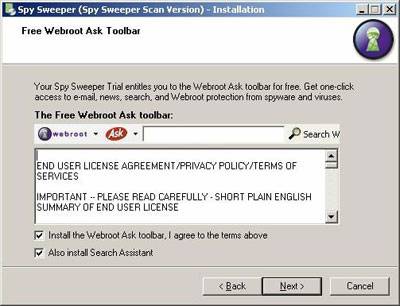 It's very easy to whip through an install and just click on "I agree to the terms above" just to get the installation over, but if you don't read through that whole EULA (or the rest of the installation), you may find that you have not only installed a program you wanted, but one (or more) that you didn't want, as well.
Be Secure, Maintain your Privacy
Identity theft (ID) is a huge problem these days. And at the heart of every ID theft is a computer or computer network. Maintain privacy of your personal financial information such as- ATM card number, ATM Pin, Credit card number, CVV number, Internet Banking User ID, & Password, and so on. Ensure nobody gets these details when you shop, eat in a restaurant, operating your account in a cyber cafe, and any such public places. Secure these details as you secure your wallet in busy market.
Use a Good Password
A secure password is one that can't be guessed. For example, if your name is Amit Kumar then Amit1234, kumar1234, amit999, kumar888, or alike are not good passwords. Hackers have amazing password cracking capabilities, so the longer and more jumbled the password, the better. And don't use the same password for each account because if they get one account, they get them all.